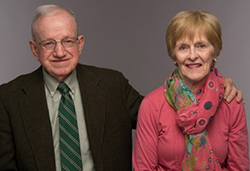 After more than 40 years of professionally and personally rewarding experiences as RIT faculty, it was easy for my wife and me to commit to establishing an endowed scholarship within the College of Health Sciences and Technology.
I've had the pleasure of teaching a diverse population of students and have been routinely impressed with their focus on learning. As such, my wife and I feel it is important to support current and future RIT students both annually and through our estate plans as they negotiate their high-quality educational journeys.
Our daughters both work in the medical field which has resulted in medicine being an integral part of our lives. We decided to direct our endowment to RIT's College of Health Sciences and Technology which focuses on integrating medicine and technology to prepare graduates to meet the needs of the health care system.

Did you know that…
You can make a gift that actually increases your income and reduces your taxes.
You can make a gift that provides you a stream of income when you retire.
You can donate your house, take a deduction, and live in your home for the rest of your life.
You can name RIT the beneficiary of your IRA and avoid double-taxation.
You can make a gift that costs you nothing now by including RIT in your will.
Like Jack and Barbara, you too can create your legacy. For more information and to learn how you can create your legacy, please contact Hallett Burrall, Director of Planned Giving at 585.475.3106 or [email protected]. To have Hallett contact you directly, please complete and submit the form below.