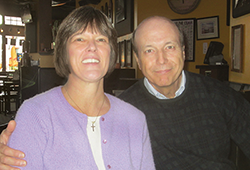 After earning their degrees, trips back to RIT were few in number for Rick '79, '86 and Patty '88 Stoffel. Renewed interest in RIT began when they attended both Brick City Homecoming and Imagine RIT. The campus they once knew had grown considerably, and they wanted to help continue its progress.
RIT also proved to be a great fit for their son, David. RIT became a true partner in David's education, recognizing academic achievement with scholarships, and providing experience through co-op. So, Rick and Patty made a provision for RIT in their estate plans. To them, it is much more than a donation. It is their legacy.

Did you know that…
You can make a gift that actually increases your income and reduces your taxes.
You can make a gift that provides you a stream of income when you retire.
You can donate your house, take a deduction, and live in your home for the rest of your life.
You can name RIT the beneficiary of your IRA and avoid double-taxation.
You can make a gift that costs you nothing now by including RIT in your will.
Like Rick and Patty, you too can create your legacy. For more information and to learn how you can create your legacy, please contact Hallett D. Burrall, Senior Director of Planned Giving at 585.475.3106 or [email protected]. To have Hallett D. contact you directly, please complete and submit the form below.