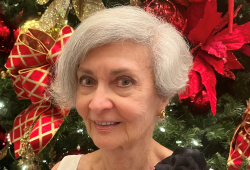 Although Beverly Jones Markus spent a small portion of her life in Rochester, she has never forgotten her time as a faculty member at RIT. It was an unexpected career transition for her in the 1970s, but the impact it has had on her life has lasted to this day.
After receiving her degree in retail from The Ohio State University in 1961, Beverly was hired by a department store in Cleveland where she also met her future husband.
The couple relocated in 1973 after Beverly's husband accepted a position to become president of Sibley's flagship department store in downtown Rochester. Due to a company rule about relationships within the workplace, Beverly was not permitted to work at Sibley's. Also, because of her husband's high-level position at the store, she was unable to find work in retail at other Rochester-area businesses.
During her search, someone mentioned working at RIT to Beverly. While normally she would not have considered a position in higher education, three former roommates of hers in Cleveland had all attended the university, graduating from the business school.
So Beverly signed on at RIT as part-time adjunct professor, arriving at a brand new campus. She loved that her curriculum could be a combination of learning from the textbook and from Beverly's first-hand retail experience. However, she found she was a "nervous wreck" before her lectures, with even the dean remarking to her on a cold winter's morning, "I've never seen someone hate a position so much and yet do so well."
After a year of teaching, Beverly jumped at the opportunity to be the coordinator of cooperative education for the college of business.
"I found a subject students really like-it's called themselves," Beverly jokes.
And even though she still had to teach one class on co-op preparation, the position was a perfect fit for Beverly as she also did study abroad in Mexico and fieldwork at Lord & Taylor's 5th Avenue store in New York City. Both experiences proved to be the most beneficial two semesters of her education.
During Beverly's time helping students find co-ops, she made lifelong connections with them, one of whom she still keeps in touch with nearly 50 years later.
"It's because of relationships like these that I consider RIT to be a special place," said Beverly. It's also why she gives back. "I feel so strongly about supporting education and consider it the best insurance policy because you never know where life will take you, but your degree will open so many doors."
In 2021 Beverly made a bequest intention to fund the Edwina B. Hogadone & Gertrude J. Larwood Memorial Scholarship to honor the scholarship's strong female namesakes.
Created in 1982 by Dean Edwina Hogadone, who, at the time of her retirement in 1970, was the nation's only woman dean of a business college and the first woman dean of any college at RIT, the scholarship also honors the memory of Edwina's friend, Gertrude Larwood, who began her career as an RIT co-op student at Sibley's and then held a number of positions in her 42-year career at that store.
Beverly's gift will ensure that generations of future RIT students who demonstrate financial need continue to receive scholarships so that they can pursue their dreams, just as Beverly, and so many others were able to do.
Beverly now relaxes and enjoys warm Florida winters. "I am truly grateful for my time spent at RIT and thrilled to give back what RIT provided for me while I was there. I know it may be trite, but I have had far more fun giving than receiving, and I think that's a great expenditure to help somebody help themselves. In the long run, we'll all be better off."
To create a legacy of your own, contact:
Hal Burrall and
Tamra Werner BS '91, MM '20, MS '21
RIT Office of Planned Giving
585-475-3106 | [email protected]
legacyrit.org