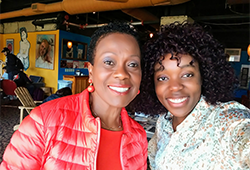 Gifts come in many forms, but they usually begin with someone who cares deeply.
For Hope Drummond BS '91 , her mother was her inspiration for generosity that is changing lives. She describes Gladys Maud Earle as a person whose love you could experience by her actions and disposition. She was reserved, but also authentic and never afraid to speak her mind when a situation warranted. She was always forgiving and encouraging, and made people feel appreciated for the smallest of deeds.
"My mother's commitment to education was admired by all who knew her well, including her children," explains Hope. "Her positive influence still supports me today."
Gladys' legacy shone through when Hope decided to create a scholarship for students in the Saunders College. "I could not think of any greater reward than to start a scholarship in her memory," says Hope.
Honoring her mother and supporting her RIT college's needs, Hope created the Gladys Maud Earle Memorial Endowed Scholarship to provide tuition support for Jamaican and African-American students in the Saunders College. As a Saunders College alumna, her own experience mirrors that of her scholarship students. In her scholarship gift she wants them understand her mother's dedication to education and love for those around her.
Hope shares the following quote from Marcus Garvey, a Jamaican political activist, publisher, journalist, entrepreneur, and orator. It's a message she wants all students to embrace.
"Take advantage of every opportunity; where there is none, create one yourself."
A Drummond Scholar, Andrea Munda Mbombo '21 knows how important Hope's gift is to her future. "I am so grateful for Mrs. Drummond's gift that will help me pursue studies and eventually become what I was meant to be! I just finished an amazing co-op experience, and made the dean's list last year. I am also part of the Honors Program, and the networking opportunities RIT and the Saunders College offer are my favorite part of being a student here."
You can honor the people who've changed your life and share their story in a powerful way - by helping a young person pursue their dream of an RIT education. And it's easier than you think when you make a gift through your will. You can learn more about how you can create this kind of legacy by downloading our free guides to creating a gift through your will .